Damascus, Syria – Syrian Kurds reportedly clashed with forces loyal to the regime of Syrian President Bashar al-Assad on Saturday breaking a tactical agreement between the two sides, both facing an ongoing struggle to fight the Islamic State of Iraq and the Levant (ISIS). The fighting reportedly broke out in the Syrian City of Hassakeh, the UK based Syrian Observatory for Human Rights said. Casualties were reported on both sides. 
The clashes broke out Saturday after members of a Kurdish militia detained 10 Syrian soldiers and pro-government gunmen after they were deployed in areas controlled by Kurds. "There has been some serious fighting today. The PYD arrested 10 soldiers and Baath party gunmen," Observatory head Rami Abdulrahman told the press. "There is now fighting in many areas of Hassakeh."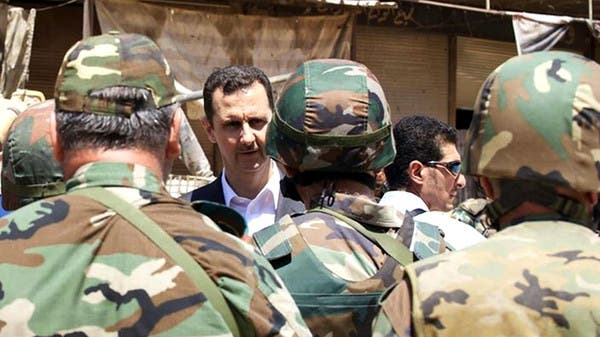 Assad visits troops loyal to his regime. The YPG and the government had divided Hassakeh into zones in a power sharing agreement for the region. (Photo courtesy of Al Arabiya)
The Syrian Military reportedly shelled three areas in the Kurdish region of the country on the edges of the city of Hassakeh. Nawaf Khalil, A spokesperson Kurdish Democratic Union Party spokesman said the fighting was concentrated in several areas in Hassakeh, a predominantly Kurdish city. Fighting between the two sides has been reportedly rare since the Syrian military withdrew from the area in 2012 to focus its fighting elsewise in the country. Kurdish forces have been openly deployed in the area, defending the region from insurgents, since the Syrian regime withdrew from the region. However, violence broke out when Syrian army's soldier in the region as well as militiamen loyal to the regime took control of buildings in an area that both sides had agreed would stay demilitarized, the Syrian Observatory for Human Rights monitoring group reported.
While there were smaller scale clashes reported last May between the Assad regime forces and Kurdish Forces in the city of Hassakeh those clashes were relatively contained. During Syria's three year civil war, Kurds have proclaimed control in parts of the northeast where Kurdish forces have defended the nation's Kurdish minority. Approximately 200,000 people have been killed since the Syrian conflict began in March 2011, according to the United Nations.
The City of Hassakeh has seen heavy violence from the Islamic State of Iraq and the Levant (ISIS) over the past several months. Last Friday, Amnesty International reported that fighters loyal to ISIS targeted and killed Arab families living and working in the farming village of al-Tleiliye in Kurdish-controlled Hassakeh province. ISIS reportedly killed 15 people included seven children. "The attacks appear aimed at terrorizing and forcibly displacing the community living in the area," Philip Luther, Amnesty International's Middle East and North Africa program director, said in a statement. The organization "fears these civilians were killed as retribution for their perceived support of the YPG, either directly or indirectly through their Yezidi Kurdish landowners, or because they were mistaken for Yezidi Kurds."