Sacramento, California - Following his inauguration, Governor Edmund G. Brown Jr. swore in Justices Mariano-Florentino Cuéllar and Leondra R. Kruger to the California Supreme Court today in Sacramento.
"What I'm looking for is insight and growing wisdom over time so we can create a measure of harmony in what is a very conflicted society," said Governor Brown at today's ceremony. "And I think we are going to do very well in helping build the respect for the law, for the courts, for their independence, so that all of us – whatever our particular ideological or philosophical proclivities – at the end of the day are very thankful that we have honest, intelligent and fair-minded people making sense out of the complexities."
Governor Brown nominated Justice Cuéllar in July and Justice Kruger in November to the California Supreme Court. Justice Cuéllar was confirmed in August and Justice Kruger last month by the Commission on Judicial Appointments, composed of Chief Justice Tani Cantil-Sakauye, Attorney General Kamala D. Harris and senior presiding justice of the state Court of Appeal Joan Dempsey Klein.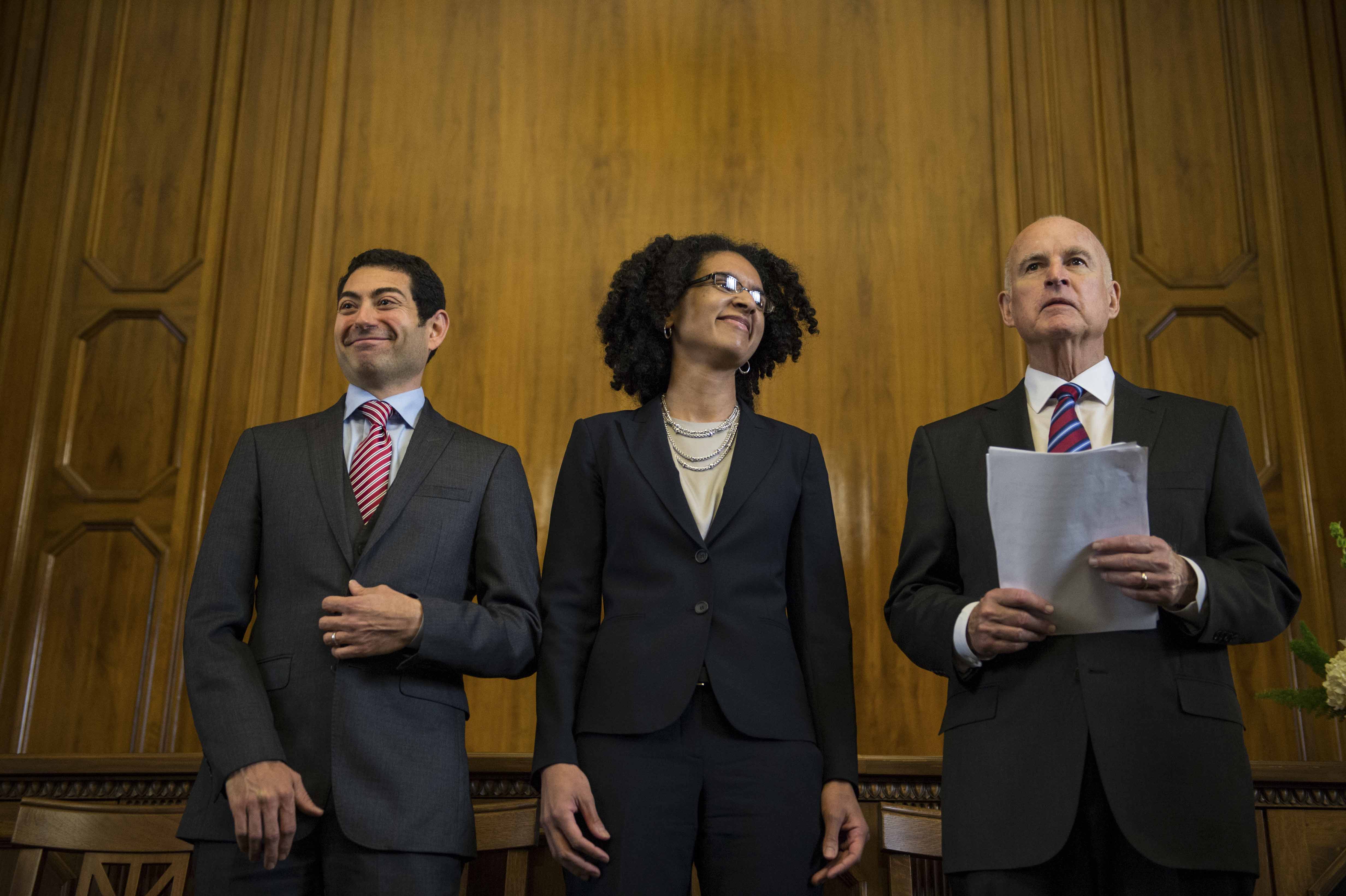 Governor Brown with Justices Cuéllar and Kruger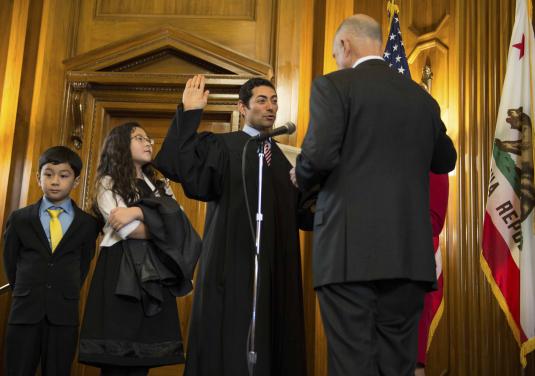 Governor Brown swears in Justice Cuéllar 
Cuéllar, 41, of Stanford, was a Stanford Law School professor from 2001 to 2014 and was appointed Stanley Morrison Professor of Law in 2012. He taught administrative law, criminal law and international law, among other subjects. Cuéllar was director of Stanford University's Freeman Spogli Institute for International Studies from 2013 to 2014 and Professor of Political Science, by courtesy, at Stanford's School of Humanities and Sciences from 2010 to 2014. He served as co-director of Stanford's Center for International Security and Cooperation from 2011 to 2013.
Cuéllar was born in Matamoros, Mexico and for a number of years walked across the border each day to attend school in neighboring Brownsville, Texas. At age 14, he moved with his family to the Imperial Valley of California, where he graduated from Calexico High School. Cuéllar went on to earn a Bachelor of Arts degree from Harvard College, a Juris Doctor degree from Yale Law School and a Doctor of Philosophy degree in political science from Stanford University.

Cuéllar served as special assistant to the President for Justice and Regulatory Policy at the White House Domestic Policy Council in 2009 and 2010 and was co-chair of the Obama-Biden Transition's Immigration Policy Working Group in 2008 and 2009. He served as a law clerk to the Honorable Mary M. Schroeder at the U.S. Court of Appeals for the Ninth Circuit from 2000 to 2001 and as senior advisor to the Under Secretary for Enforcement at the U.S. Department of the Treasury from 1997 to 1999.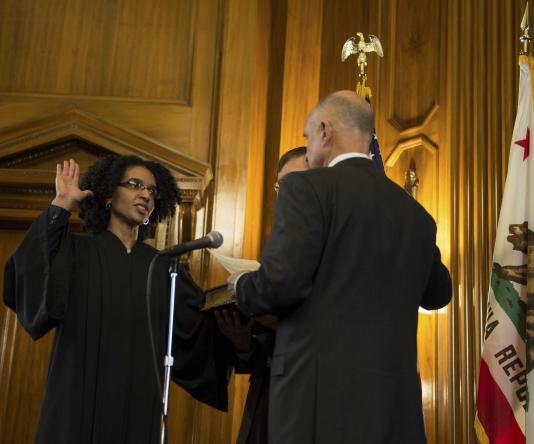 Governor Brown swears in Justice Kruger
Kruger, 38, of Washington, D.C., served as a Deputy Assistant Attorney General at the U.S. Department of Justice, Office of Legal Counsel from 2013 to 2014. She served as an Assistant to the Solicitor General and as Acting Principal Deputy Solicitor General in the U.S. Department of Justice, Office of the Solicitor General from 2007 to 2013. While serving in that office, she argued 12 cases on behalf of the federal government before the U.S. Supreme Court.
Kruger was a visiting assistant professor at the University of Chicago Law School in 2007 and an associate at Wilmer, Cutler, Pickering, Hale and Dorr LLP from 2004 to 2006. She served as a law clerk to the Honorable John Paul Stevens on the U.S. Supreme Court from 2003 to 2004 and to the Honorable David S. Tatel on the U.S. Court of Appeals for the District of Columbia Circuit from 2002 to 2003. Kruger was an associate at Jenner and Block LLP from 2001 to 2002.
Kruger earned a Juris Doctor degree from Yale Law School, where she was editor-in-chief of the Yale Law Journal, and a Bachelor of Arts degree from Harvard University, where she graduated magna cum laude and was a member of Phi Beta Kappa. Kruger was born and raised in the Los Angeles area. She is a member of the State Bar of California.
Photo Credit: Brad Alexander, Office of the Governor.