Los Angeles, California - The FBI and law enforcement partners continue to seek the public's assistance in learning the identity of a suspect who robbed a Beverly Hills bank on November 28, now nicknamed the "Patient" Bandit," based on the surgical-type mask he wears around his mouth and nose. An unidentified male who matches the description of the suspect in the November 28 robbery was seen in bank surveillance photographs taken on December 5 at a Citibank located at 3rd and Fairfax. Witnesses described the man's activity on December 5 as suspicious while he stood in the customer service line at the bank.
The man left the bank without conducting any bank business.
During the November 28 robbery, which occurred at a Citibank located at 8485 Wilshire Blvd. in Beverly Hills, the Patient Bandit passed a note that demanded cash and threatened an explosive device. The suspect was described as a white male with a large build and as being very pale. The suspect was wearing a New England Patriots ball cap, according to witnesses, and was wearing a surgical mask on his face. Witnesses also described the suspect as having a clear bandage on his arm, similar to one that would be affixed after having one's blood drawn. The suspect, who carried a black backpack, was further described as being more than six feet tall, approximately 230 pounds, and 55 years of age.
Bank surveillance photos from the November 28 robbery and the suspected casing on December 5 are below.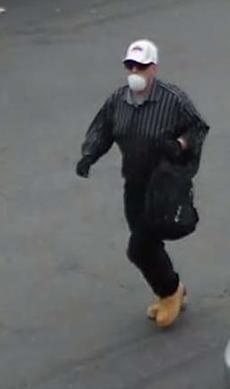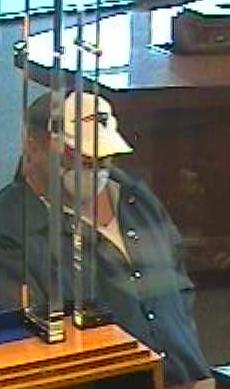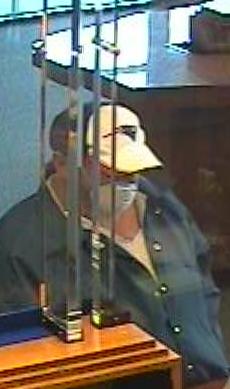 Anyone with information as to the identity of the Patient Bandit is urged to contact the FBI 24 hours a day at 310 477-6565, or dial 911.