Los Angeles, California - Members of the Bank Robbery Apprehension Team (BRAT) in Orange County are seeking the public's assistance in learning the identify of a bank robbery suspect who robbed a bank on Saturday in Tustin and who has been linked to a separate bank robbery last week in Costa Mesa.
During the initial robbery, the suspect advised victims inside the bank to "keep smiling" and was thereafter nicknamed the "Keep Smiling Bandit." During the robberies, the suspect has passed a note to the victim teller and verbally demanded cash. No weapon has been seen; however, during Saturday's robbery, the suspect's note read, "Keep your hands away from the alarm or I'll shoot."
The suspect, who can be seen in bank surveillance photos wearing eyeglasses and a baseball cap, was also described as "nervous." The subject is further described as follows:
White
Male
Age: early 30s
Height: 5'7"-5'9"
Build/weight: thin, 140-150 pounds
Hair: unshaven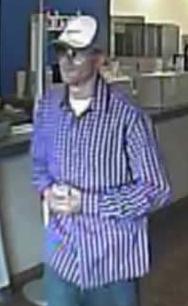 The BRAT, which collaborates with law enforcement in cities where suspects rob banks, is made up of FBI agents and detectives with the Orange County Sheriff's Office. Anyone with information as to the identity of the Keep Smiling Bandit is asked to contact the FBI or call 911. In Los Angeles, the FBI can be reached 24 hours a day at (310) 477-6565. Additional information about bank robbers wanted in southern California can be found at www.labankrobbers.org.