Paris, France - On his third full day in Paris for the United Nations Climate Change Conference, Governor Edmund G. Brown Jr. today met with United Nations Secretary-General Ban Ki-moon and joined China's top climate change official Xie Zhenhua and France's Minister of Ecology, Sustainable Development and Energy Ségolène Royal at events highlighting California's international partnerships and climate leadership.
"We are building a global force and momentum to decarbonize our economy that will slowly but surely erode the denial, skepticism and opposition," said Governor Brown.
During their meeting, the Governor and Secretary-General discussed progress toward an agreement amongst national governments at COP21, California's climate leadership, the Under 2 MOU climate agreement and the action and commitment needed beyond Paris. The Secretary-General and Governor also discussed the global effort to combat terrorism and the Secretary-General expressed his sympathies to the people of California following the shooting in San Bernardino.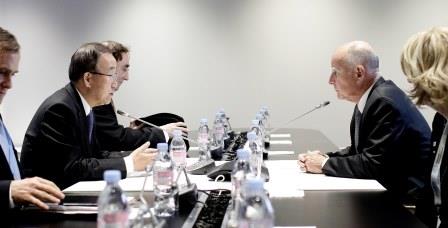 Governor Brown meets with United Nations Secretary-General Ban Ki-moon.
Earlier in the day, Governor Brown and China's Special Envoy on Climate Change Xie Zhenhua spoke at an event at the China Pavilion in the blue zone at Le Bourget organized by China's National Development and Reform Commission (NDRC) highlighting California and China's collaboration on air pollution mitigation, emissions trading and clean technology. The two leaders met privately after the event. Today's event builds on a number of diplomatic exchanges between California and China this year, including a meeting between Governor Brown and President Xi Jinping and the renewal of an agreement first signed in 2013 with then-NDRC Vice Chairman Xie Zhenhua - representing the first agreement between the NDRC and a subnational entity on climate change.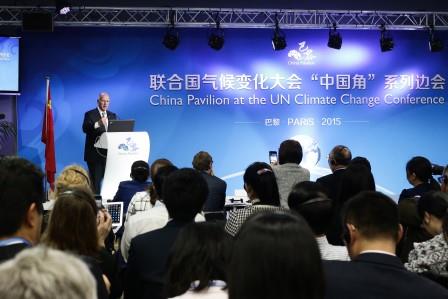 Governor Brown gives remarks at China-California Low Carbon and Climate Change Cooperation Event.
Prior to the event at the China Pavilion, Governor Brown joined France's Minister of Ecology, Sustainable Development and Energy Ségolène Royal, Washington Governor Jay Inslee and Vermont Governor Peter Shumlin at the French Pavilion in the green zone at Le Bourget, an event hosted by the French government to highlight aggressive climate action amongst American states. At the conclusion of the event, the leaders signed a joint declaration to confirm their commitment to cooperate and support exchanges on sustainable economic development, climate change and related technologies and policies.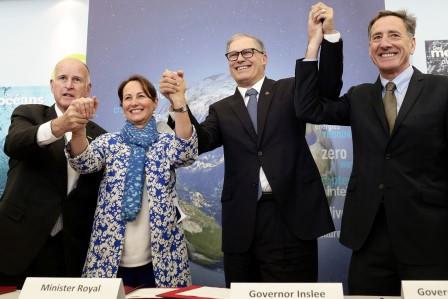 Governor Brown at U.S. State Leadership on Climate Change Event. Left to right: France's Minister of Ecology, Sustainable Development and Energy Ségolène Royal, Washington Governor Jay Inslee and Vermont Governor Peter Shumlin.
Governor Brown also spoke at the States and Regions Alliance General Assembly organized by the Climate Group and participated in a media briefing beforehand with Quebec Premier Philippe Couillard; Basque Country President Iñigo Urkullu; South Australia Premier Jay Weatherill and Scotland First Minister Nicola Sturgeon to discuss state and regional climate leadership and action, including efforts to expand and implement the mutually complimentary Under 2 MOU and Compact of States and Regions.
The Governor also joined Oakland Mayor Libby Schaaf, British Columbia Member of the Legislative Assembly Mary Polak, Washington Governor Jay Inslee, Vancouver Mayor Gregor Robertson and moderator, Climate One founder Greg Dalton in a panel discussion for the UNFCCC's Climate Action Dialogues: Subnationals Leading the Way, which highlighted subnational leadership on emission reduction targets and economic opportunity.  
Additionally, Governor Brown and NextGen Climate founder and President Tom Steyer participated in a discussion moderated by Natural Resources Defense Council President Rhea Suh on government and business efforts to reduce greenhouse gas emissions during the Earth to Paris Summit organized by the United Nations Foundation.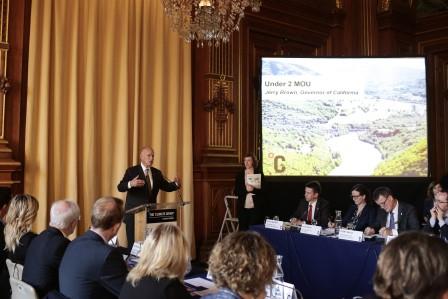 Governor Brown gives remarks at States and Regions Alliance General Assembly.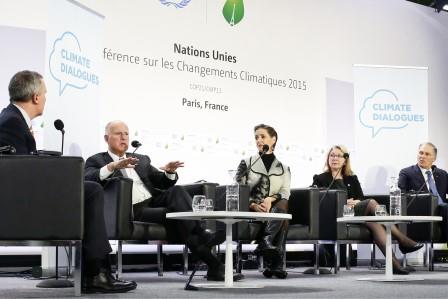 Governor Brown speaks at UNFCCC Climate Action Dialogue panel on subnational leadership.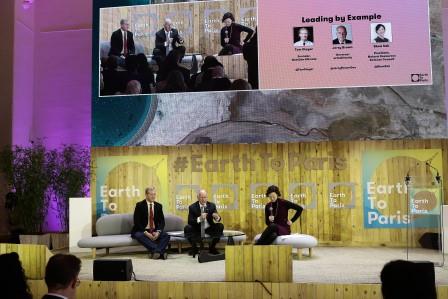 Governor Brown joins NextGen Climate founder and president Tom Steyer and NRDC president Rhea Suh at the Earth to Paris Summit.
On Sunday, Governor Brown and U.S. Ambassador to France Jane D. Hartley welcomed 15 new signatories to the Under 2 MOU climate agreement at a signing ceremony hosted at the U.S. Ambassador's Residence in Paris. With the addition of Sunday's signatories – including South Australia, the first Australian state to join the Under 2 MOU and Rhode Island, the ninth American state to sign on – a total of 80 jurisdictions representing 22 countries and six continents have now signed or endorsed the agreement, together representing more than 614 million people and $18.6 trillion in GDP, equivalent to nearly a quarter of the global economy. Governor Brown also on Sunday discussed California's nation-leading action on renewable energy on a panel focused on clean energy initiatives by national and subnational governments at the "RE-Energizing the Future" conference organized by the European Commission, International Renewable Energy Agency, Syndicate for Renewable Energy of France and others and later delivered keynote remarks at one of the COP21's largest "side events," the "2015 Global Landscapes Forum," following a plenary session featuring international scientists and government leaders seeking to bridge the divide between climate research and policy making – a longstanding priority in California.
On Saturday, Governor Brown participated in UNFCCC COP21's official "Action Day" event highlighting commitments and initiatives from the world's top climate leaders, including "non-state" actors like California. Governor Brown gave remarks during a session focused on local authorities' engagement, which also featured Paris Mayor Anne Hidalgo; former New York Mayor Michael Bloomberg; Johannesburg Mayor Parks Tau; Seoul Mayor Park Won Soon and Global Local Forum President and former President of the Fatick Region, Senegal Abdoulaye Sene. Later that day, Governor Brown joined Oscar-winning director Charles Ferguson and world-renowned primatologist and conservationist Dr. Jane Goodall on a panel following a screening of the new climate change documentary "Time to Choose," which highlights California's climate leadership.
Today is the Governor's third of five days at the UN Climate Change Conference with events in Le Bourget and throughout Paris organized by the French, U.S., German and Chinese governments, UNFCCC, the European Commission, the World Bank, UN Foundation, Climate Group, International New York Times, École Normale Supérieure (ENS) and many others.
Governor Brown is attending the UN Climate Change Conference at the invitation of UNFCCC Executive Secretary Christiana Figueres – the United Nations' top climate change official – and France's Minister of Foreign Affairs and International Development Laurent Fabius – the president of the COP21.
Photo Credit: Stéphane Lemouton