Nashua, New Hampshire - Emergency management has historically been viewed by much of the public as an emergency response-focused mission in which state and local public safety entities, the military or the federal government step in after disaster strikes. But emergency managers play an important role in reducing risk for communities - before an emergency occurs. As such, they need to be recognized as "risk reduction integrators" alongside the many players working to mitigate hazards in the community, ranging from public health, code enforcement, community planning and engineering.
After completing two cycles of hazard mitigation planning that led to few if any measurable improvements in risk reduction, the city of Nashua, New Hampshire, realized that an important shift would be required to strengthen the role of hazard mitigation in community resilience. Hazard mitigation planning would need to be considered in the city's comprehensive planning and include stakeholders beyond the typical public safety-focused entities found in emergency response. Along the way, we discovered that there are a wealth of public and private resources that can support a community's efforts to plan a resilient future.
Creating a Plan, Setting Goals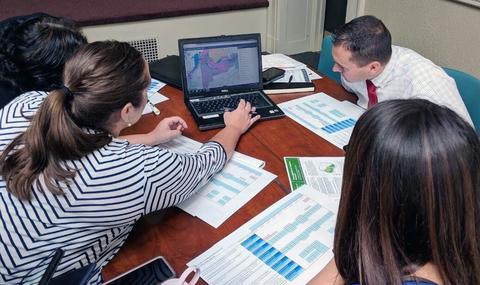 Nashua, New Hampshire, staff and community members deliberate during a Resilient Nashua Initiative workshop session.
Credit: Texas A&M Institute for Sustainable Communities
First, the Nashua Office of Emergency Management (OEM) partnered with the Nashua Community Development Division to establish the Resilient Nashua Initiative to move hazard mitigation from the sidelines to the forefront, including climate adaptation and pre-disaster recovery planning efforts.
We realized that the initiative could not be successful unless resilience was considered in all facets of municipal operations, community planning and future capital investments. The city undertook a multi-year planning process that identified important social institutions within the community, the associated buildings and infrastructure crucial to those institutions, and the threats and hazards facing those components of the built environment. The result was a comprehensive community resilience strategy that planned and prioritized actions to reduce risk today as well as those that could be quickly implemented after a disaster.
Building Bridges, Getting Help
The Nashua OEM acknowledged that it did not have the expertise or capacity to conduct such an ambitious mitigation planning project. With funding from the Federal Emergency Management Administration (FEMA), the Environmental Protection Agency and the National League of Cities, we hired the city's first Community Resilience Coordinator. The new coordinator brought an urban planning background to the job and became responsible for building a collaborative resilience planning team. The team brought together a diverse community of stakeholders ranging from the soup kitchen to the country club and the city engineer to community businesses.
Community members who could not attend meetings provided feedback to the project team using the city's coUrbanize crowdsourcing platform. The Resilient Nashua Initiative's focus on holistic community resilience brought many stakeholders to the table that likely would not have participated in a more conventional hazard mitigation plan update.
The Resilient Nashua Initiative could not have been nearly as successful without the technical assistance provided by our federal, academic and nonprofit partners. Working with the Institute for Sustainable Communities at Texas A&M University, the city leveraged the  Plan Integration for Resilience Scorecard (PIRS), funded by the U.S. Department of Homeland Security Science and Technology Directorate, to spatially evaluate plans and policies that promote development in higher risk areas. PIRS helped the city evaluate community plans with respect to hazard risk and how well they target the most vulnerable areas of the community, when and where those plans are in conflict, and resolving those conflicts. For example, it highlighted numerous conflicts and opportunities in plans to redevelop historic sections of a riverfront with residential units intended to address the current stresses on housing supply.
Nashua also engaged with NIST throughout the planning process to leverage its Community Resilience Planning Guide for Buildings and Infrastructure Systems to strengthen hazard mitigation and better integrate pre-disaster recovery planning. Working with NIST's Community Resilience Fellows and using the Planning Guide's six-step process, stakeholders participating in the Resilient Nashua Initiative set performance goals for vital social functions including health care, education and public safety along with their associated buildings and infrastructure lifelines.
With support from Northeast States Emergency Consortium (NESEC), we used FEMA's HAZUS software to model and analyze the anticipated performance of social functions after a catastrophic earthquake, hurricane or flood. Planning through this lens enabled the city to better comply with FEMA mitigation planning mandates and set goals for city social and economic needs and functions and the performance of the built environment during and after a disaster.
Resilience Dialogues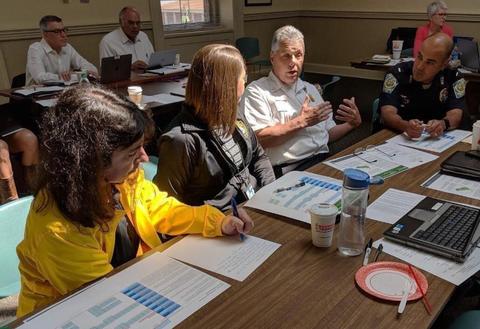 Nashua, New Hampshire, staff and community members participate in a Plan Integration for Resilience Scorecard (PIRS) activity.
Credit: Texas A&M Institute for Sustainable Communities
Collaborative technology also helped us to capture best practices and realistic climate adaptation actions that could be incorporated into Nashua's hazard mitigation strategy. Community members participated in Resilience Dialogues, an online public-private collaboration that works to build climate-resilient communities through facilitated conversations among scientists, practitioners, and community leaders.
The Resilience Dialogues brought new perspectives on community resilience from subject matter experts outside Nashua and the state of New Hampshire. It helped us look ahead at future conditions that could impact the city and led us to include proven climate adaptation strategies in our plan. A prime example of the creative best practices it brought to Nashua was the use of crowdsourced citizen flooding reports that helped build better requests for FEMA hazard mitigation grant funding.
Getting Feedback
Early in the Resilient Nashua Initiative, the city was selected to participate in the National League of Cities (NLC) Leadership in Community Resilience 2018 Cohort. Throughout 2018, Nashua leaders participated in many policy and practice exchanges to provide no-cost services to communities working to achieve resilience goals. The city was able to solicit feedback on its own initiative from other participating cities throughout the year and at the Resilient Cities Summit.
Funding from NLC also supported the Mayor's Resilient Nashua Summit, which hosted over a hundred attendees from around New Hampshire to promote awareness and foster whole-community resilience. Sessions at the Summit challenged attendees to think about future climate impacts to Southern New Hampshire, best practices in sustainability and resilience programs, the concept of resilience as a competitive edge, and innovative approaches to cultivating public-private partnerships for disaster response and recovery.
Realizing the Benefits of Relationship Building
One challenge that has limited past emergency managers' ability to implement measurable hazard mitigation is convincing the public and decision-makers to buy something they might never use. Because of these difficulties, we expect the most likely opportunity to advance costly mitigation actions will occur after a disaster that results in significant damage and requires reconstruction.
With this in mind, the city conducted both a workshop and a tabletop exercise to evaluate the feasibility of implementing these mitigation actions after a disaster as well as the ability to leverage funding streams and technical assistance coordinated through the National Disaster Recovery Framework (NDRF). Using the Performance Goals Tables developed in the NIST Community Resilience Planning Guide process, exercise planners developed a "500-year" average recurrence interval flood replicating the impacts of a major flood from 1936 on today's buildings, infrastructure and community demographics. This recovery exercise enabled the Resilient Nashua Initiative stakeholders to evaluate the proposed mitigation actions in a scenario where public sentiment and funding opportunities would support new risk reduction measures.
The enhanced relationships built between the OEM and other organizations are already paying off in the city. As part of the FEMA Risk MAP process to update flood insurance rate maps for a watershed in Nashua, we discovered that a property slated for a large new residential development was in the new special flood hazard area. Both the OEM and the Community Development Division coordinated immediately to promote mitigation actions that could enable development while protecting lives and property.
Imagine Nashua 2040
Lessons learned from the exercise and the Resilient Nashua Initiative planning process are expected to be taken to the next level through inclusion in the city's upcoming master plan update, "Imagine Nashua 2040." The master plan serves as the city's roadmap for the next 20 years and the incorporation of resilience concepts and priorities across the entire document improves the outlook for the integration of risk reduction measures in future development and infrastructure investments.
Moving forward, the city is excited to use the newest NIST resilience tools including the Economic Decision Guide and associated EDGe$ Tool, and look forward to using the NIST Community Resilience Center of Excellence's Interdependent Networked-Community Resilience Modeling Environment (IN-CORE) to guide resilience investment decision-making during the implementation phase of the resilience strategy.
The Resilient Nashua Initiative and support from partners like NIST have enabled hazard mitigation to play a strong role in Nashua's comprehensive emergency management program. We believe that the NMIS recommends the tools and programs necessary to enable professional emergency managers to serve as "risk reduction integrators" in their communities. By doing so, NMIS advances the integration of hazard mitigation and community resilience beyond emergency management and lays the foundation to build stronger communities across the United States.