Quebec City - Governor Edmund G. Brown Jr. today signed an agreement with the leaders of Québec and Ontario to officially integrate their cap-and-trade programs, expanding the three-year partnership between California and Québec to include Ontario, Canada's most populous province and leading industrial region. The agreement takes effect January 1, 2018.
"Climate change, if left unchecked, will profoundly disrupt the economies of the world and cause untold human suffering," said Governor Brown. "That's the reason why California and Québec are joining with Ontario to create an expanded and dynamic carbon market, which will drive down greenhouse gas emissions."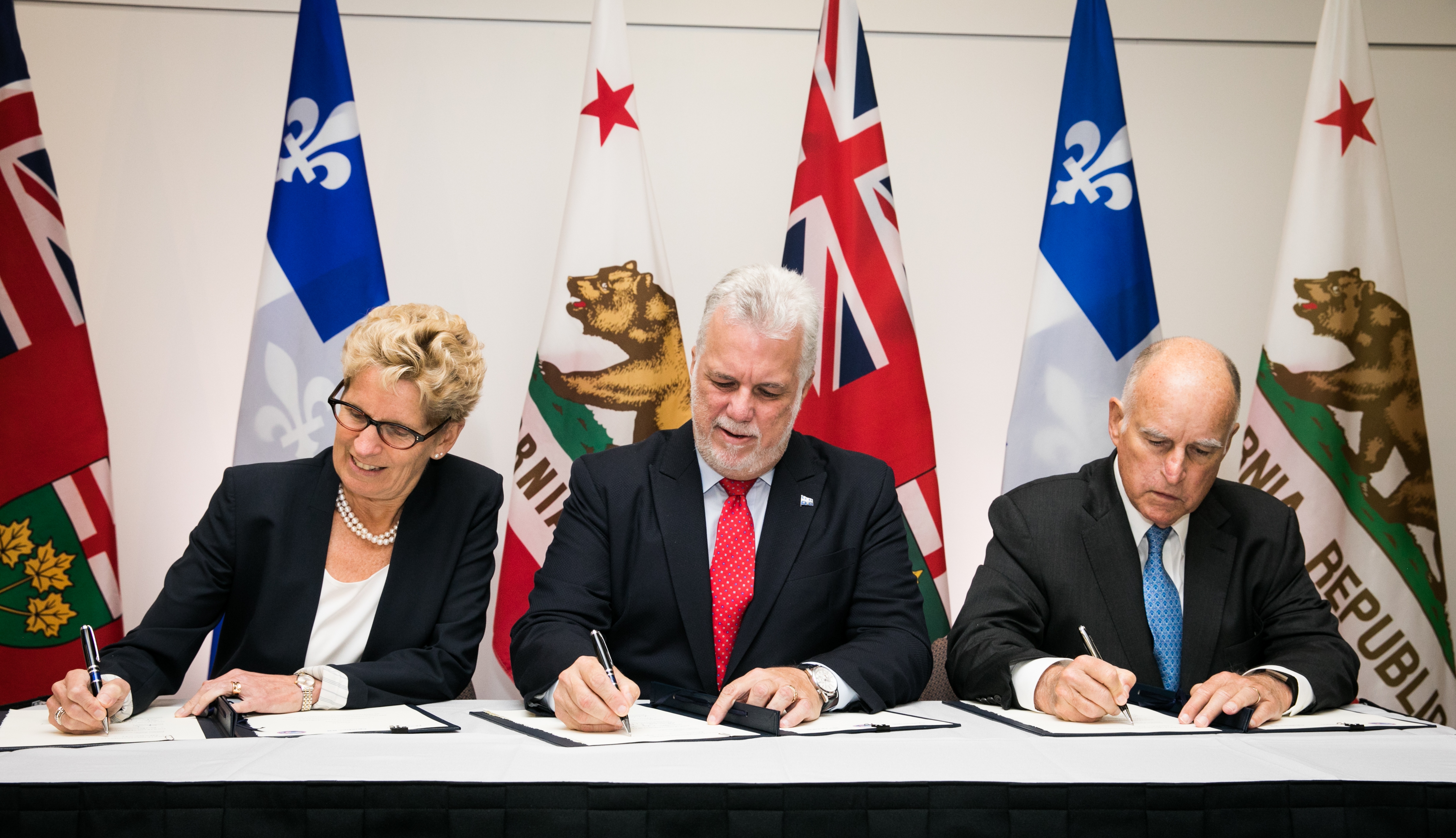 Governor Brown, Ontario Premier Kathleen Wynne (left) and Québec Premier Philippe Couillard (center) sign agreement to expand cap-and-trade partnership.
"Climate change is a global problem that requires global solutions. Now more than ever, we need to work together with our partners around the world and at home to show how our collaboration can lead to results in this international fight. Today's carbon market linking agreement will add to the success we have already seen in reducing GHG emissions in Ontario, California and Québec. We are stronger together and by linking our three carbon markets we will achieve even greater reductions at the lowest cost. I look forward to continuing to work with Governor Brown and Premier Couillard on our common goals, including advocating for the adoption of carbon markets and emissions cap programs across North America and around the world," said Ontario Premier Kathleen Wynne.
"Québec has been active for many years in the fight against climate change. We believe in concerted and coherent actions with our partners as well as in cooperation to face the challenges posed by this global challenge. On behalf of the Government of Quebec, I want to assure Ontario and California of Québec's full cooperation in the implementation and promotion of carbon markets in North America and internationally. We should rejoice in the progress made so far and the new milestones made today in strengthening our relations, which contribute to a more prosperous, more responsible and low carbon society," said Québec Premier Philippe Couillard.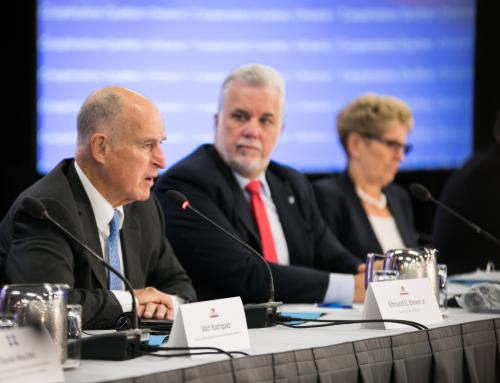 Governor Brown delivers remarks at the 7th joint meeting of Cabinet Ministers of the governments of Ontario and Québec.
California's cap-and-trade program, which launched in 2012 and linked with Québec's program in 2014, sets a declining limit on carbon pollution and creates a market to achieve the emission reduction targets in the most cost effective manner. 
Expanding the partnership to include Ontario will further strengthen this market-based system and drive additional investment in clean energy and innovation. 
A strong cap-and-trade program, together with California's full suite of climate programs and actions, will help ensure the state can cut carbon within its borders to meet its ambitious targets to reduce greenhouse gas emissions to 1990 levels by 2020 and 40 percent below 1990 levels by 2030. 
The linkage agreement reflects California, Québec and Ontario's shared commitment to operate an efficient, linked market and supports coordinated information sharing and continued consultation. It also lays out a process for other jurisdictions to join the linked program and establishes a working model for other states and provinces that are seeking cost-effective approaches to reducing their greenhouse gas emissions. 
Today's agreement comes after Governor Brown signed AB 398 in July, extending the state's cap-and-trade program to 2030. In March, as required by SB 1018, Governor Brown produced findings that Ontario's program was as stringent as California's program and could be considered for linkage and in July, the California Air Resources Board adopted an amendment to its cap-and-trade regulation setting January 1, 2018 as the start of the linkage. Ontario and Québec are both on track to finalize corresponding linkage amendments to their regulations. 
While California, Québec and Ontario developed their cap-and-trade programs through separate legislative and regulatory processes, the three jurisdictions have worked together to ensure that their programs complement each other and provide participants in all three jurisdictions with the benefits of an expanded program.
Under the linked program, carbon allowances and offset credits can be exchanged among participants in all three jurisdictions' cap-and-trade programs. The expanded market leverages additional greenhouse gas reductions at reduced cost and enhances the ability of jurisdictions to effectively work together to develop and implement cost-effective regional greenhouse gas emission reduction programs.
The agreement was signed today in Québec City during the 7th joint meeting of Cabinet Ministers of the governments of Ontario and Québec and can be found here. For additional information on the cap-and-trade program, visit: http://www.arb.ca.gov/cc/capandtrade/linkage/linkage.htm 
Today's action follows the Governor's events and meetings earlier this week tied to Climate Week NYC, the Yale Climate Conference and the UN General Assembly. Over the course of the week, the Governor met with the UN Secretary-General, opened Climate Week NYC 2017 and discussed subnational climate action from governments and the business community at events with other global leaders. Governor Brown announced co-chairs for the Global Climate Action Summit, highlighted state, city and business-led climate initiatives at the Yale Climate Conference and joined fellow U.S. Climate Alliance co-chairs to release a report on the progress by member states to meet their portion of the U.S. commitment under the Paris Agreement. In addition, the Governor participated in a wide-ranging discussion organized by the Skoll Foundation and the UN Foundation on the need to mobilize all levels of society to decarbonize the economy, signed an agreement with Denmark on water and climate issues and welcomed the Republic of the Marshall Islands and other new members to the Under2 Coalition.