New York, New York - As the U.S. federal government fails to act on climate change, Governor Edmund G. Brown Jr. joined former Secretary of State John Kerry and fellow U.S. Climate Alliance co-chairs New York Governor Andrew Cuomo and Washington State Governor Jay Inslee today in New York to release a new report that shows Alliance states are on track to meet – and potentially exceed – their portion of America's Paris Agreement commitments.
"We're doing something in the face of inaction," said Governor Brown in New York City today at the first public meeting of U.S. Climate Alliance co-chairs. "We're all in and we'll keep going and eventually, Washington will join with us because you can't deny science forever, you can't deny reality. And the reality is climate change is occurring."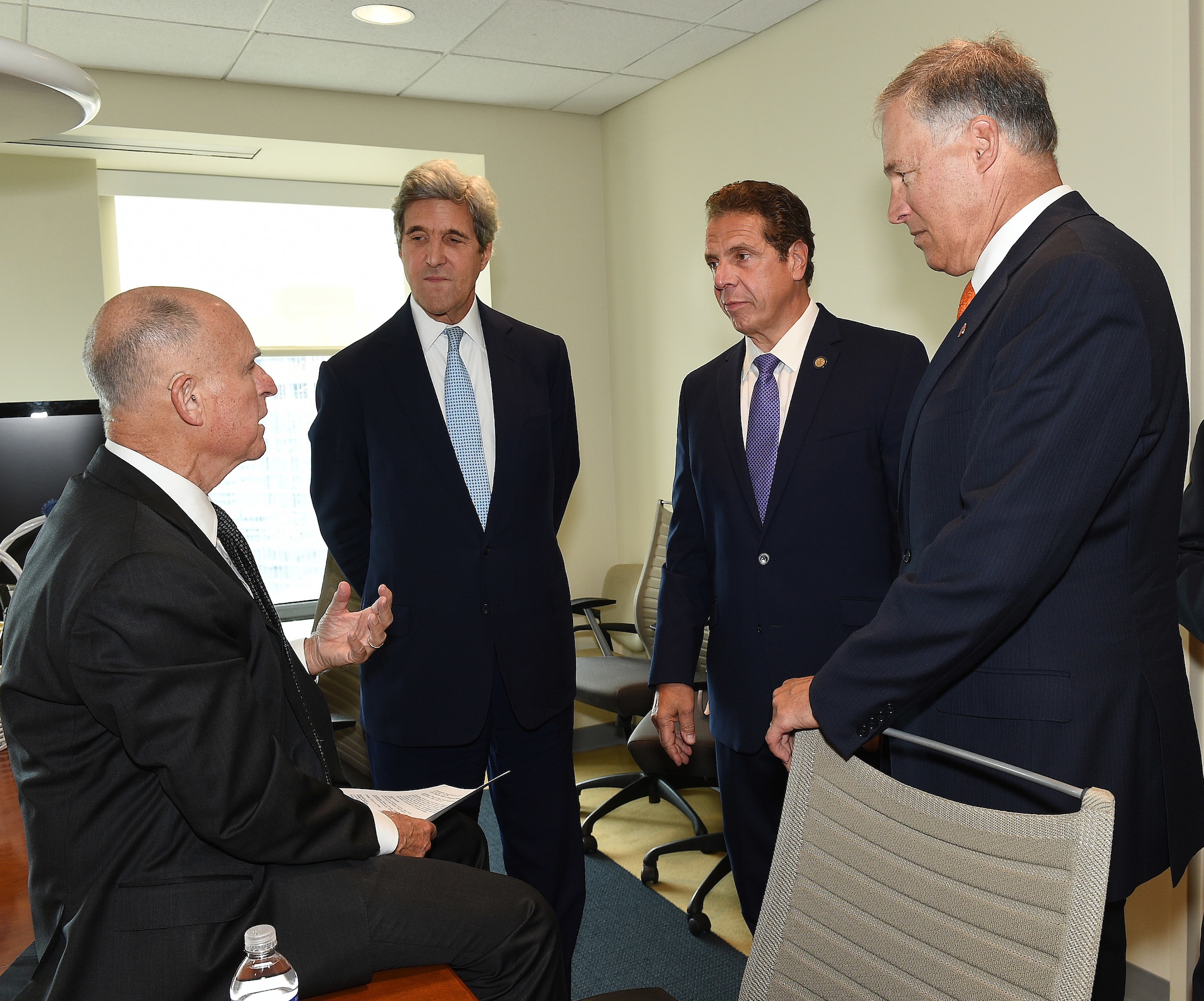 Governor Brown meets with former Secretary of State Kerry and Governors Cuomo and Inslee.
Governor Brown gives remarks at U.S. Climate Alliance meeting.
The bipartisan Alliance, launched by Governors Brown, Cuomo and Inslee in response to the U.S. federal government's decision to withdraw from the Paris Agreement, has grown to 15 members with the latest addition of North Carolina. The Alliance now encompasses 36 percent of the U.S. population and $7.16 trillion of America's GDP. Today's report assessed climate action by Alliance states and found that they are not only on track to fulfill their contribution to meeting the Paris Agreement targets, but have also outpaced the rest of the country in reducing greenhouse gas emissions – 15 percent from 2005 to 2015 – while continuing to grow their economies.
Also this afternoon, at the Bloomberg Global Business Forum, the Governor announced that Executive Secretary of the United Nations Framework Convention on Climate Change Patricia Espinosa, United Nations Secretary-General's Special Envoy for Cities and Climate Change Michael Bloomberg and Mahindra Group Chairman Anand Mahindra will co-chair the Global Climate Action Summit in San Francisco next September. The Summit will convene leaders from subnational governments, businesses and civil society to demonstrate the groundswell of ambitious climate action around the world, marking the first time a U.S. state has hosted an international climate change conference with the direct goal of supporting the Paris Agreement. The gathering will also help strengthen the push for greater emissions reduction targets at the United Nations Framework Convention on Climate Change's 24th Conference of the Parties (COP 24) in December 2018.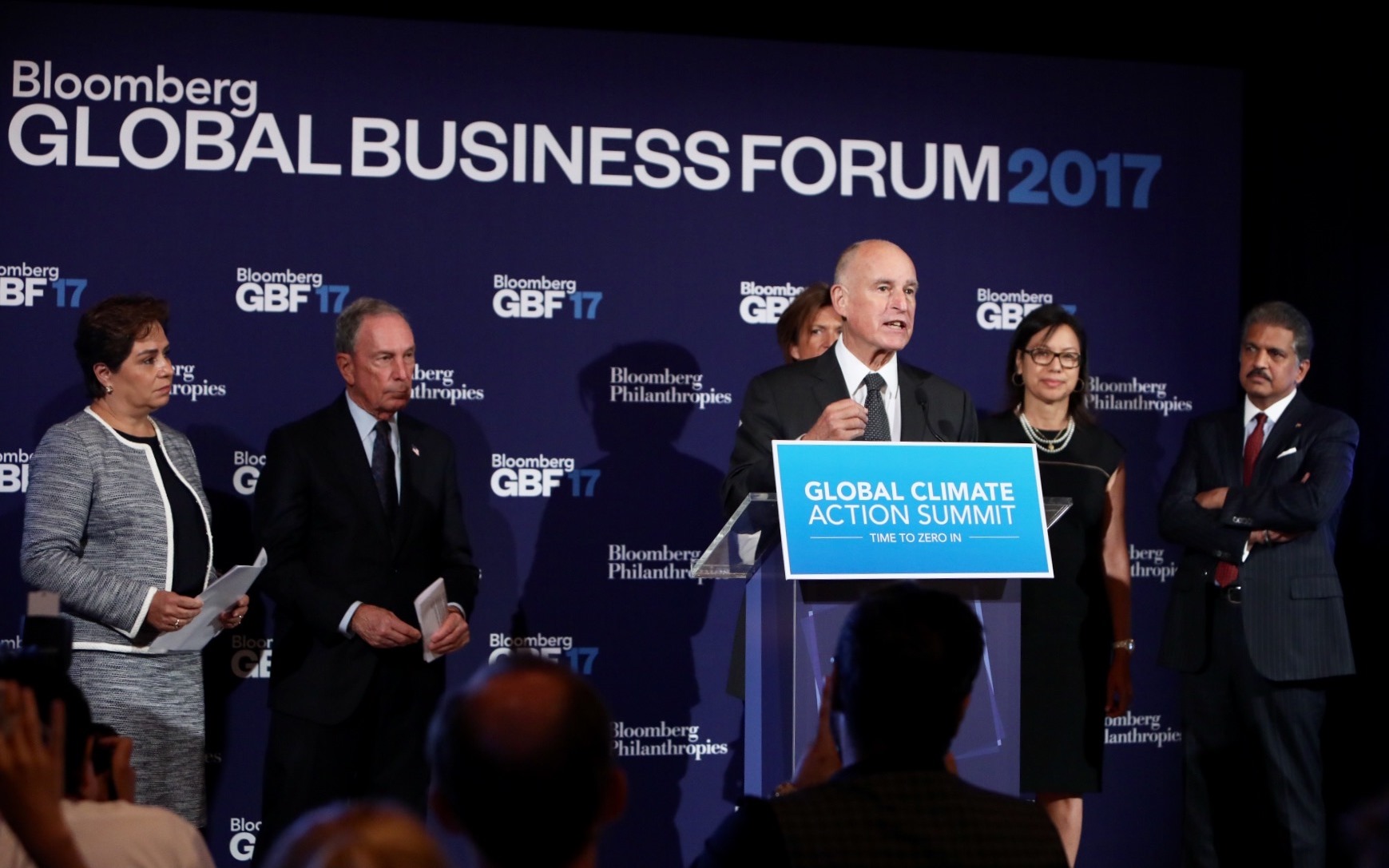 Governor Brown announces Global Climate Action Summit co-chairs UNFCCC Executive Secretary Espinosa (left), Bloomberg (second from left) and Mahindra (far right).
This week in New York City, Governor Brown has met with United Nations Secretary-General António Guterres at the United Nations Headquarters, delivered remarks at the opening ceremony for Climate Week NYC 2017 and discussed the growing importance of climate action from subnational governments and the business community at events with other global climate leaders, including France's Minister of Ecological and Inclusive Transition Nicolas Hulot, former Vice President Al Gore and Michael Bloomberg. The Governor also signed an agreement with Denmark to further cooperation on water and climate issues, welcomed the Republic of the Marshall Islands and nine other U.S. and international states and jurisdictions to the Under2 Coalition and joined former Secretary of State John Kerry, Washington Governor Jay Inslee, World Bank President Dr. Jim Kim and Paris Mayor Anne Hidalgo at the Yale Climate Conference to highlight state, city and business-led efforts to meet the goals of the Paris Agreement.
On his final day in New York City tomorrow, Governor Brown will give remarks at a forum hosted by the Skoll Foundation and the United Nations Foundation to showcase progress towards the UN's Sustainable Development Goals before traveling to Quebec City, Canada to meet with the premiers of Quebec and Ontario on Friday.