New Haven, Connecticut - After opening Climate Week NYC and meeting with United Nations Secretary-General António Guterres in New York City yesterday, Governor Edmund G. Brown Jr. today joined former Secretary of State John Kerry, Washington Governor Jay Inslee, World Bank President Dr. Jim Kim and Paris Mayor Anne Hidalgo at the Yale Climate Conference in New Haven, Connecticut to highlight state, city and business-led efforts to meet the goals of the Paris Agreement. Later in the day, Governor Brown returned to New York City and signed an agreement with Denmark to further cooperation on water and climate issues.
"We have the science, we have a growing number of chief executives and a growing number of people all over the world," said Governor Brown at the Yale Climate Conference. "The knowledge is here, the solution is at hand – all you have to do is get it done."
Governor Brown speaks at Yale Climate Conference alongside Kerry (left) and Kim (right.)
Governor Brown later met with Danish Minister of Environment and Food Esben Lunde Larsen in New York City and signed an agreement to further cooperation between California and Denmark on water and climate issues. Under the agreement, California and Denmark commit to exchanging technology, research and best practices to reduce greenhouse gas emissions through increased energy efficiency in the distribution of water and in wastewater treatment, as well as to promote water conservation and sustainable groundwater management. A copy of the agreement signed today can be found here.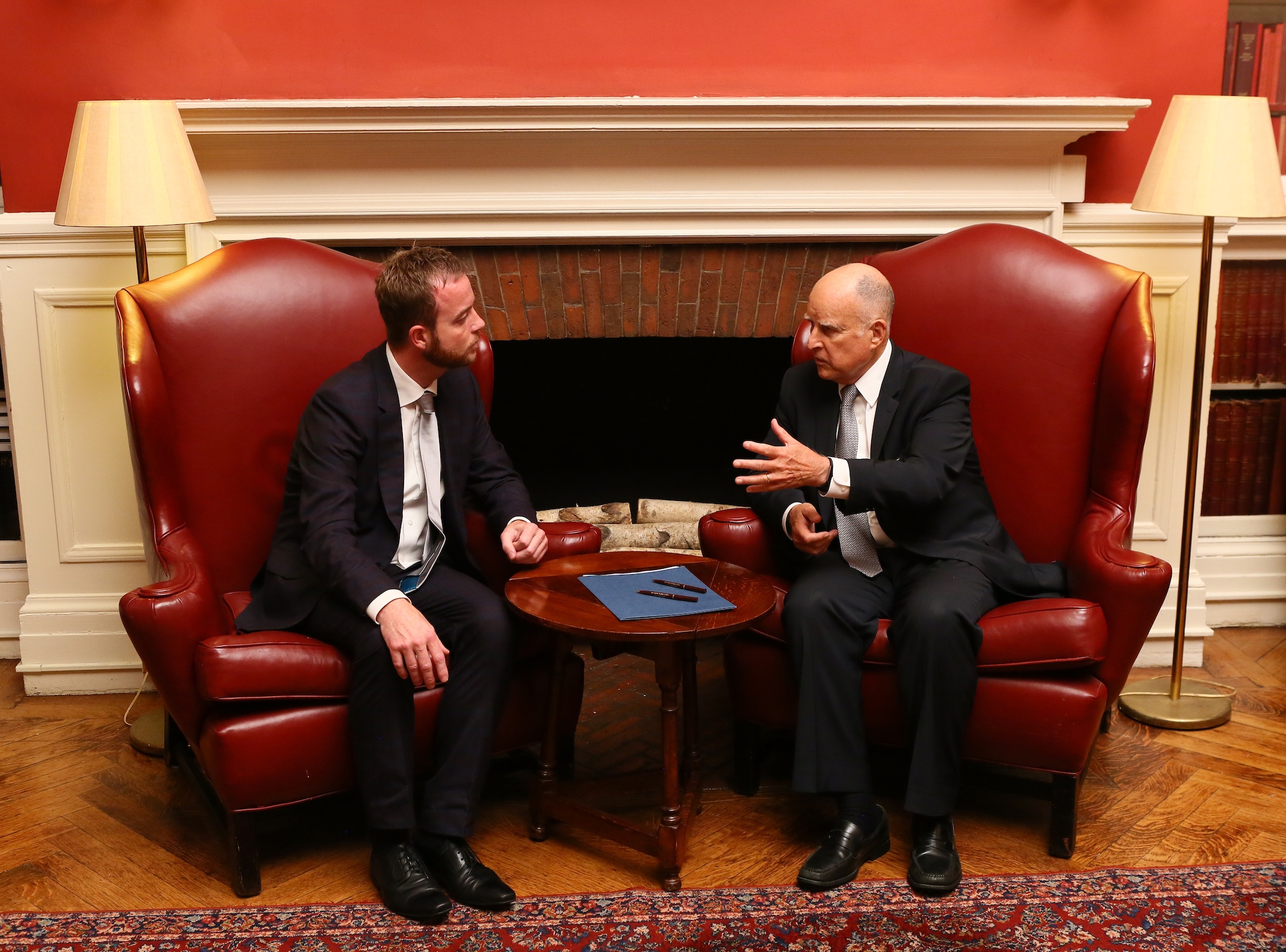 Governor Brown meets with Minister Lunde Larsen.
Yesterday, Governor Brown met with United Nations Secretary-General Guterres at the United Nations Headquarters, delivered remarks at the opening ceremony for Climate Week NYC 2017 and discussed the growing importance of climate action from subnational governments and the business community at events with other global climate leaders, including France's Minister of Ecological and Inclusive Transition Nicolas Hulot, former Vice President Al Gore and Michael Bloomberg. On Sunday, the Governor welcomed the Republic of the Marshall Islands and nine other U.S. and international states and jurisdictions to the Under2 Coalition, which now collectively represents more than 1.2 billion people and $28.8 trillion GDP – equivalent to over 16 percent of the global population and 39 percent of the global economy.
Tomorrow, Governor Brown will join Michael Bloomberg and other global business leaders and government officials at the Bloomberg Global Business Forum to discuss economic opportunity in decarbonizing the economy. The Governor will also join other U.S. Climate Alliance governors to announce that the alliance states are on track to meet their share of the U.S. commitment under the Paris Agreement and to release a new analysis tracking the states' emissions across all economic sectors.